It's special guest announcement time!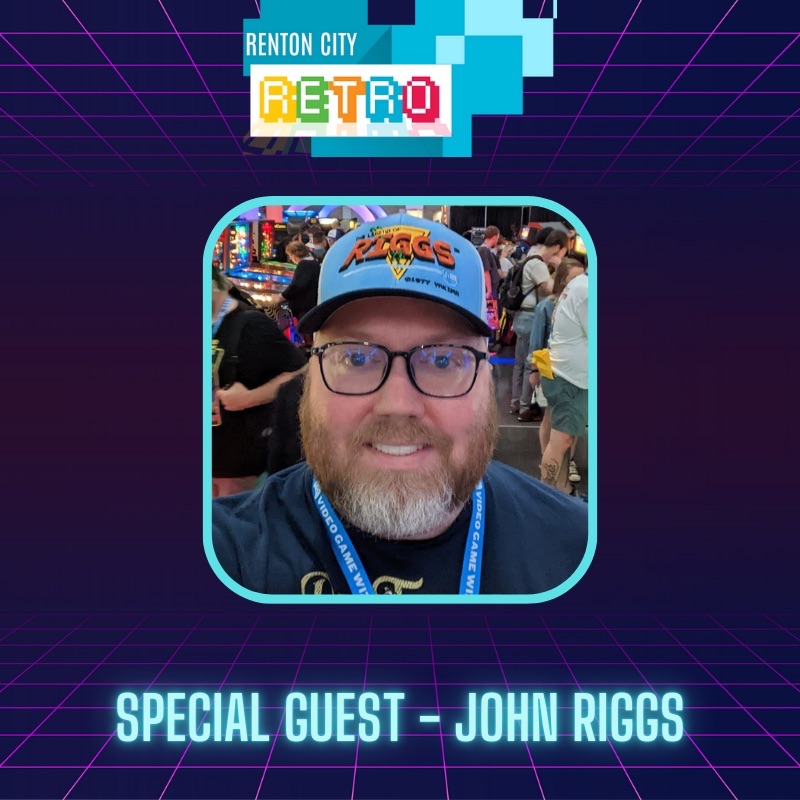 John Riggs
Content Creator
John Riggs is a globally-tolerated YouTuber who talks all things retro gaming nostalgia from ranking games by publisher, video games released in different years, hunting for games at conventions and game stores as well as trying to fix broken games with Open Cart Surgery. He's even published his own game, Yeah Yeah Beebiss II, on multiple platforms including NES and Switch. Along with video games he's a fine breakfast cereal connoisseur.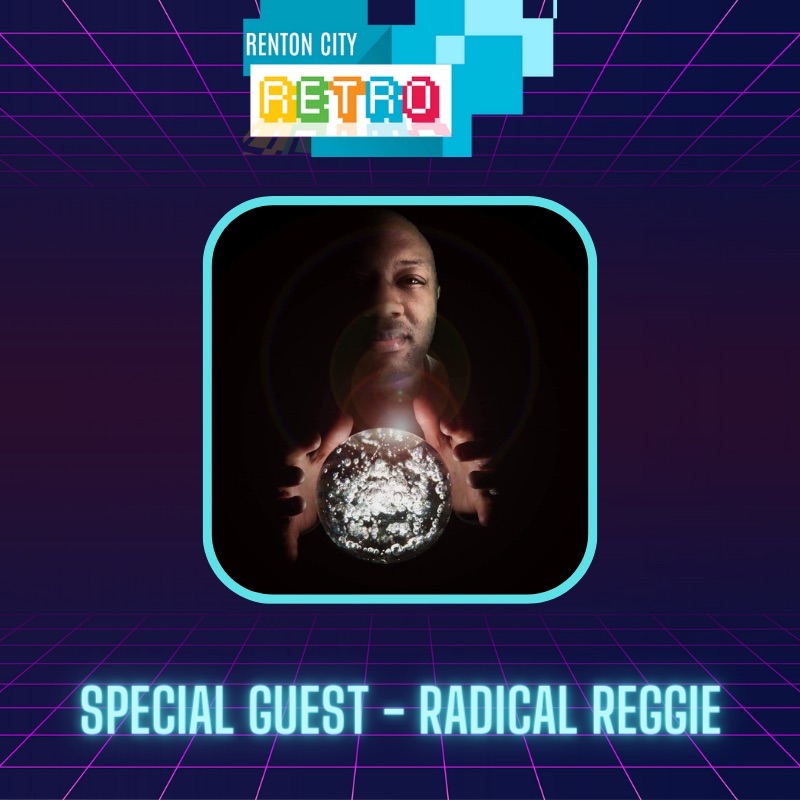 Radical Reggie
Game Collector
Radical Reggie is an avid collector of various game types. He is especially a big fan of import gaming. Reggie is also a veteran of the U.S. Army where he served his country. Reggie continues to delight everyone that follows him with his knowledge of retro and current gaming while keeping it real and down to earth. He's very proud of his great collection of games that he's acquired throughout the years, and is happy to share his passion of video games with the world.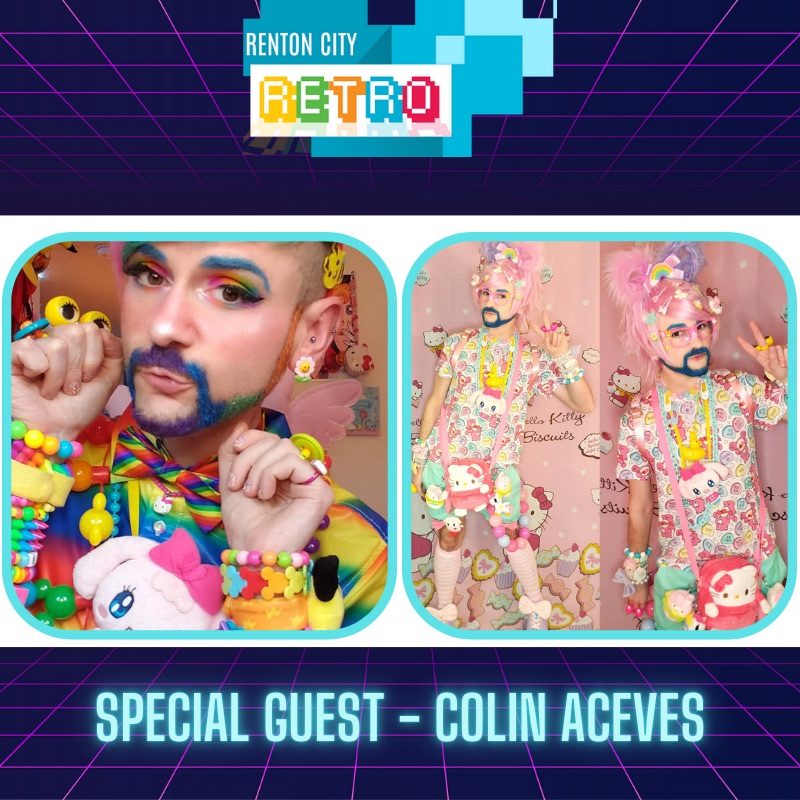 Colin Aceves
Content Creator, Fashion Designer and Tik Tok Star!
Colin is a Japanese fashion enthusiast, Hello Kitty collector, Tiktoker and owner of the brand Atomic Laundry. He has two degrees in fashion design and has been making clothing and accessories for over 15 years. He loves all things cute & colorful and encouraging others to express their truest selves.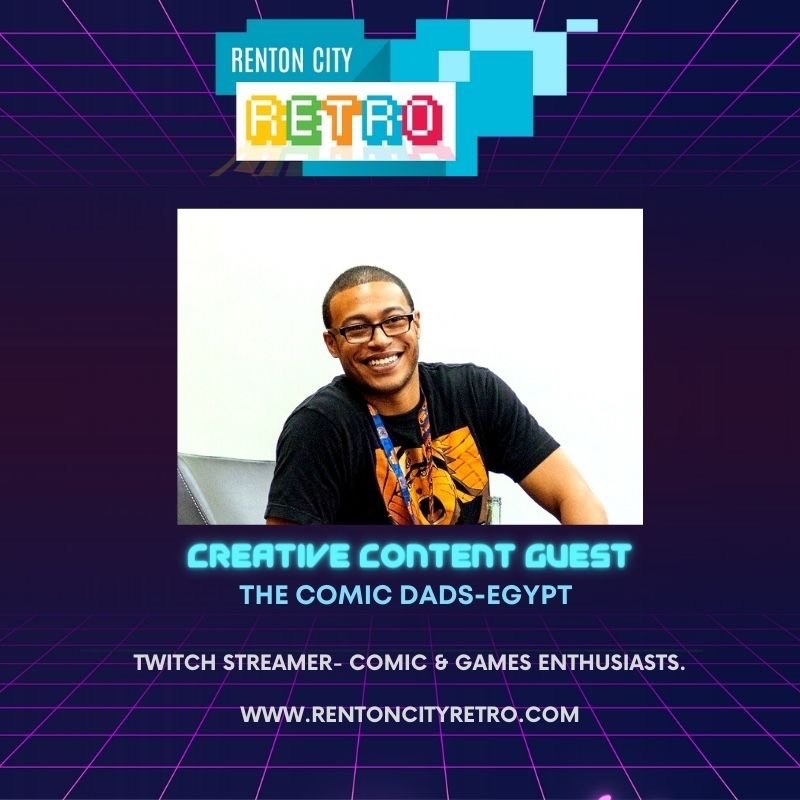 Egypt will be answering stream related questions for those who are new to streaming. Don't miss on this opportunity to talk streaming with our guest in our streaming booth.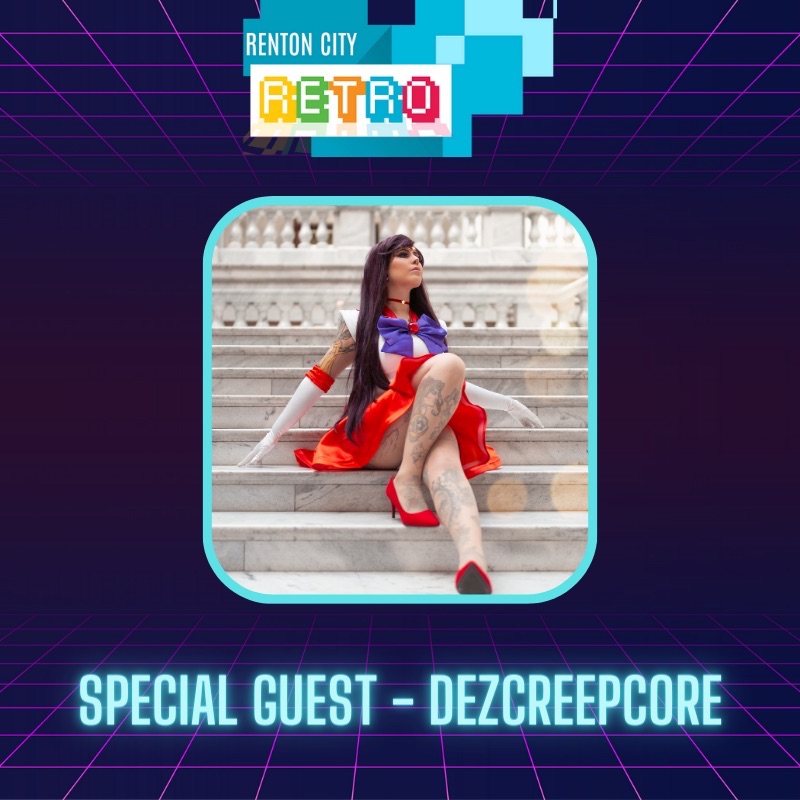 DEZCREEPCORE
Professional Cosplayer
Dez is a professional cosplayer and content creator based out of Salt Lake City, UT. She also loves participating in panels, moderating panels, and being a cosplay judge.
Dez grew up heavily influenced by anime, video games, and many fandoms such as Legend of Zelda, Final Fantasy, Marvel Comics, DC Comics, Sailor Moon, Dragon Ball, and much more! Due to having a childhood full of travel her love for fandoms began at a very early age with the introduction of some classic anime's where she began wanting to dress up as different characters.
Dez loves characters that she can relate to or characters that challenge her confort zones and push her creativity. Dez loves to incorporate her tattoos into her cosplay as a way to express her personality into each of her projects.
When she's not cosplaying Dez is gaming, reading manga, crafting, and traveling!
Go meet Dez and give her some high fives!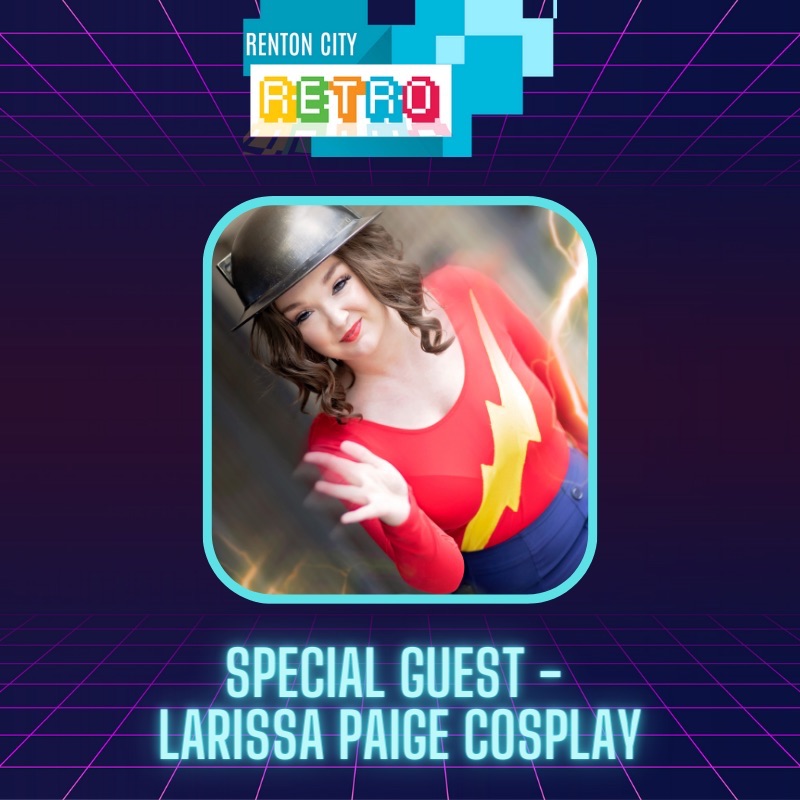 Larissa Paige Cosplay
International Cosplayer
Larissa Paige is an internationally published Cosplayer from Salt Lake City, Utah, and has been cosplaying for a little over 9 years. After attending her first convention, and with a little help and sewing lessons from her mom and grandma, she went headfirst down the rabbit hole that is cosplay. Some of her favorite genres include: Sci-if, comic books, and anime. As a self proclaimed dice goblin, in her down time she enjoys table top games, reading, exploring strange new worlds, and cuddling with her fur baby Thor. Larissa strives to help others in the cosplay community by being a strong advocate in cospositivty, and by helping spread the message that cosplay is for everyone!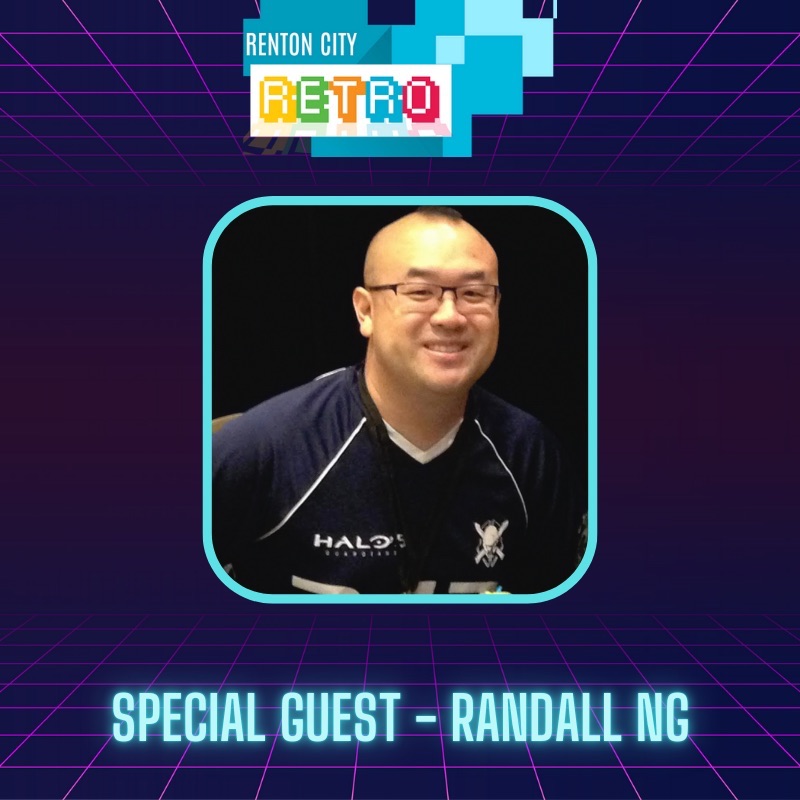 Randall Ng
Video Game Artist/Animator
Randall is a veteran video game artist/animator for over 20 years who has worked on games like halo 4, halo 5, and justice league heroes. He is also well known to the fandom on youtube where his video gangnam style ft. Transformers has reached over 42 million views. Randall and dr. Smoov created an ongoing series of comedy skits called "energon-os" showcasing "what if transformers were relegated to selling an awful cereal? " in addition, his fan video collaboration with dr. Smoov, transformers: generation one, won first place at the botcon 2009 film festival and was also included as a bonus feature on the shout! Factorycomplete dvd series release of the transformers cartoon. In 2011, randall collaborated with musician stan bush to create a music video featuring transformers ("your time") and again in 2014 ("thunder in your heart"). Randall has appeared at several conventions around the country and hosted many panels expanding on his career as an artist, father, costume builder, and filmmaker. He will be accompanied by his son, "the mini chief", in his final cosplay public appearance as this character.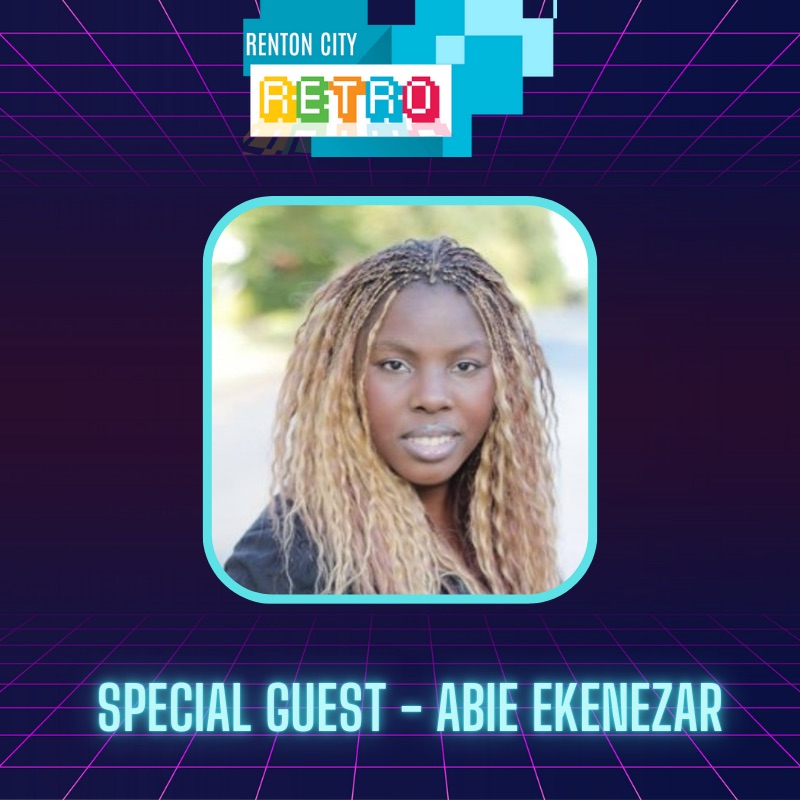 Abie Ekenezar is an actress, singer, voiceover actress, screen writer and producer living in Seattle, WA with an extensive background resume and has been in the entertainment industry professionally with IMDB credits for seven years. Abie, now represented by LA agency Dramatic Artists, works with the next generation of professional TV and Film professionals on shows like Strowlers, and a Korean horror film project that was released by their production company in 2023.
Prior to this, Abie graduated in Computers Science at Montclair State University but that wasn't enough. They also decided to get a Minor in Musical Theatre because of their love for the arts. Abie started singing from the crib and while working on their Bachelor's at Montclair, they also auditioned and was accepted into the Seton Hall University Choir where they toured along the East Coast and internationally in Quebec, Canada.
They later found their passion for the film industry, being in such projects as Grimm, Man In The High Castle, Retch, Portlandia and even Z-Nation, filmed in Spokane, WA.
They had their directorial debut in 2020 on a film dealing with our current pandemic along with the BLM protests. Abie has recently completed multiple projects with Zombie Orpheus Entertainment, along with their own productions from their production company called BabsEk Productions dealing with diversity and inclusivity in the local community that has projects to be released in 2023. Their directorial debut was November 2020 for the film short, Prefer-Racial Treatment and her first book anthology, Cooties: Shot Required was published in March 2021. They also completed a audio drama series with ElfQuest, the comic book series and The Further Adventures of Sherlock Holmes with John Patrick Lowrie of Dota 2 and Left for Dead. They plan to do more directing in the future.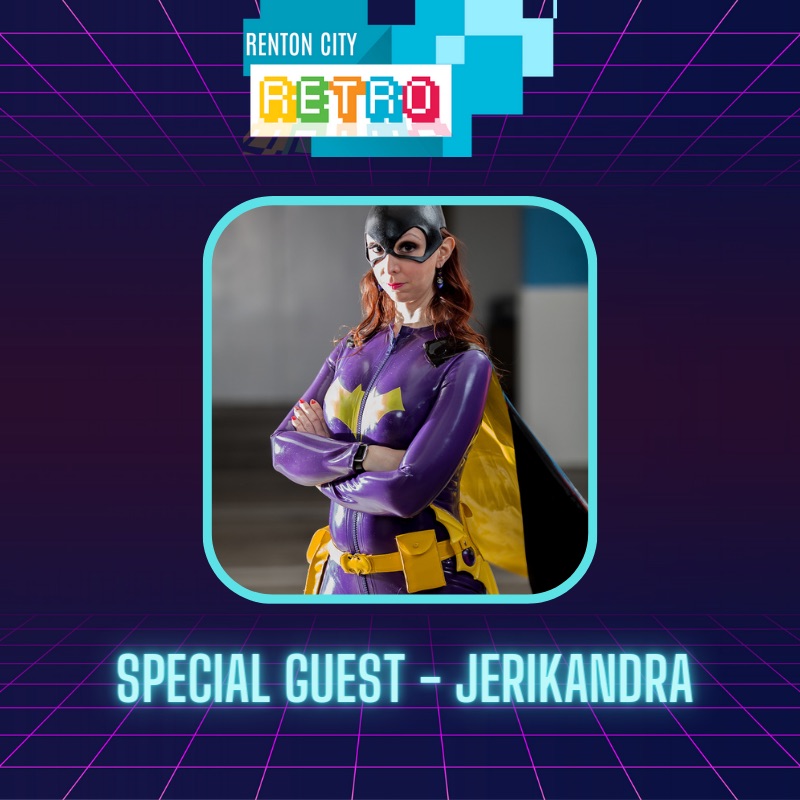 Jerikandra is an avid cosplayer, published author, regular twitch streamer, music video parody producer, and a volunteer cheerleader.
She grew up excited about sci-fi/fantasy and superheroes but sort of fell into cosplay in 2013 when she met Abi Sue, who taught her to sew and introduced her to comic-cons. Over the years that followed, she began specializing in latex costumes and teaching others about latex via panels. By 2019, she was attending and/or working upwards of 8 to 10 comic-cons a year.
In 2020, with no comic-cons to attend, she started investing in live streaming on twitch and began producing music video parodies as well. You can often find her several nights a week live streaming video games, karaoke, or even latex costume making. 2020 was also the year she published her first of three books in a Fantasy series with LGBT theme.
Jerikandra has also actively volunteered with a few organizations. Costumed Characters for Causes (@cc4causes) is a nonprofit that raises funds for children's charities by attending comic-cons and other events dressed in cosplay. In more recent years, she also joined CHEER Seattle (@CHEERSeattle) where she's taken an active role as a performer by cheering, dancing, stunting while raising funds for the local Seattle LGBT community. She is also currently their Treasurer on the Board of Directors.