Renton City Retro
May 13th-14th 2023
We are back at Full Capacity!
We will have ALL ACCESS After Parties, Burlesque Show, Friday Trade Night, FREE Play ARCADES, FREE Play Game Area, Vendors, Toys , Comics, Retro Games, Artist Alley , Anime, Celebrities guests, A Cosplay Contest,
Huge E-Sports Tournament and much much more.

FUN for the entire family!

Come join us at the Renton Pavilion Center in Downtown Renton.
SATURDAY 10AM - 4PM
SUNDAY 10AM - 4PM

Stay safe and thanks for your continued support!
*Standard Covid Protocols will be in place
Get Our SUPER SAVER Hotel Deal!
2 Night Hotel Stay + Family Pass
*2 night stay required for special deal

Click Image Below to get the special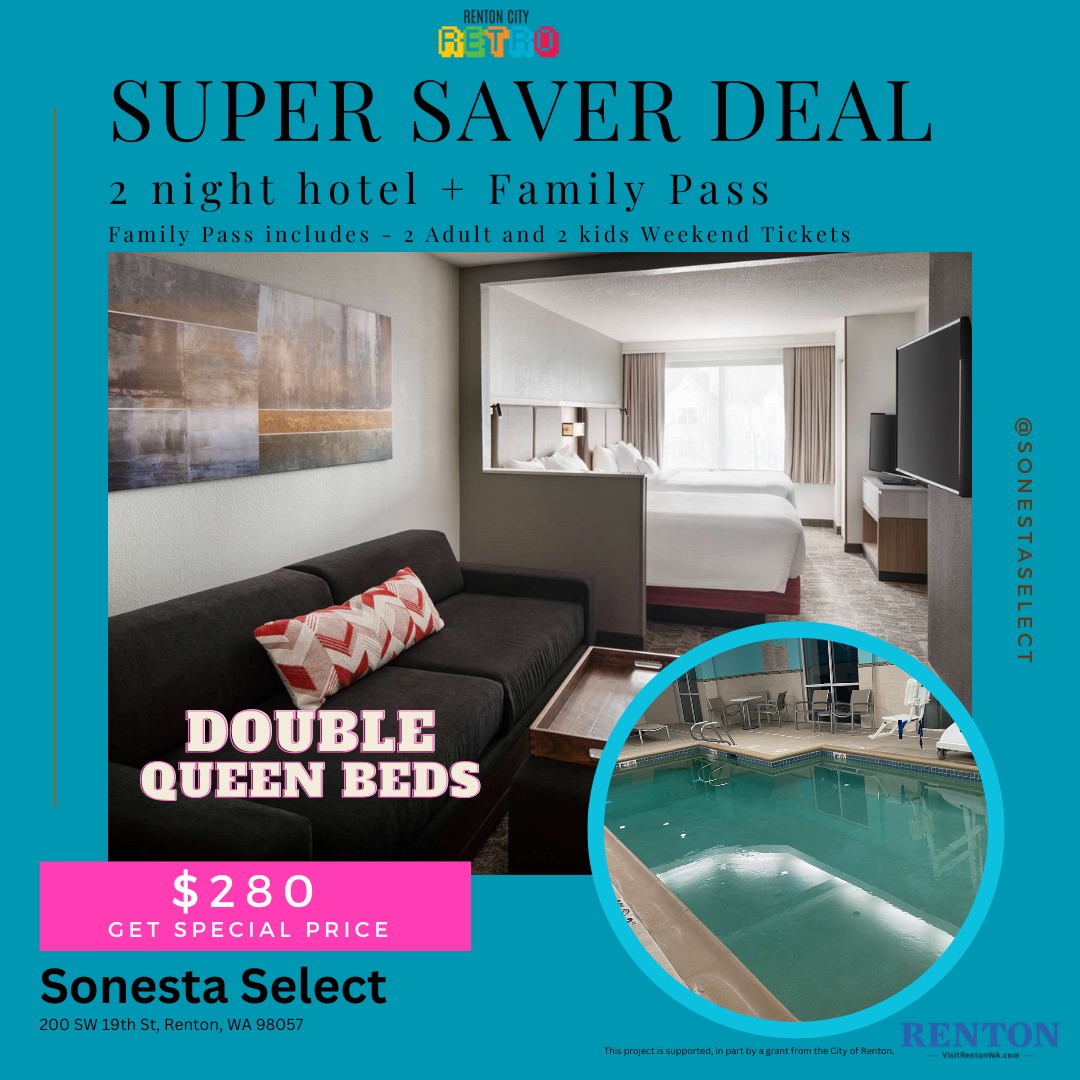 OUR MISSION

Our mission is to create a fun and engaging experience that celebrates the nostalgia and excitement of retro gaming.

Through our event in Renton, Washington, we aim to bring together a community of gamers, collectors, and enthusiasts to share their passion for classic video games and arcade machines.
We are committed to providing a welcoming and inclusive environment for people of all ages and backgrounds to come together and enjoy the magic of retro gaming. Our event will feature a variety of activities and attractions, including classic console games, vintage arcade cabinets, and tournaments for both casual and competitive players.
Above all, we believe that gaming is a social activity that brings people together and fosters connection and friendship. We hope that our retro gaming event in Renton will create lasting memories and inspire a new generation of gamers to discover the joy of classic video games.
How It All Began
The Renton City Retro Gaming Convention started as a small gathering of 100 passionate retro gamers in a small community center. The event was organized by a group of friends who wanted to share their love for retro gaming with others in their local community.
The first event was a huge success, with attendees coming from all over the region to play classic games like Super Mario Bros, Donkey Kong, and Sonic the Hedgehog on old-school consoles like the Nintendo Entertainment System and Sega Genesis.
Encouraged by the positive feedback, the organizers decided to make the Renton City Retro Gaming Convention an annual event. They worked hard to secure a larger venue and to bring in more vendors and special guests. They also expanded the event to include tournaments, cosplay contests, and panels on topics like game design and the history of gaming.
As word spread about the convention, more and more people started attending each year. The event grew from 100 attendees in its first year to 500 in its second year, then to 1,000 in its third year. By the fifth year, the convention had outgrown its venue and had to move to a larger convention center.
Despite the challenges of organizing such a large event, the organizers remained committed to their vision of creating a fun and welcoming space for retro gaming enthusiasts. They worked hard to make sure there were plenty of activities for attendees of all ages and interests, from casual gamers to hardcore collectors.
As the convention continued to grow, it attracted more and more attention from the gaming industry. Game developers, publishers, and retailers started attending the event to showcase their latest products and connect with fans.
By its ninth year, the Renton City Retro Gaming Convention had become one of the largest and most popular retro gaming events in the south king county, attracting over 2,000 attendees from across the United States and beyond. The organizers were proud of how far they had come and excited to continue growing and evolving the convention in the years to come.

RENTON CITY RETRO
RENTON PAVILION EVENTS CENTER
233 Burnett Ave S, Renton, WA 98057